Express 2 Double Sided Banner Stand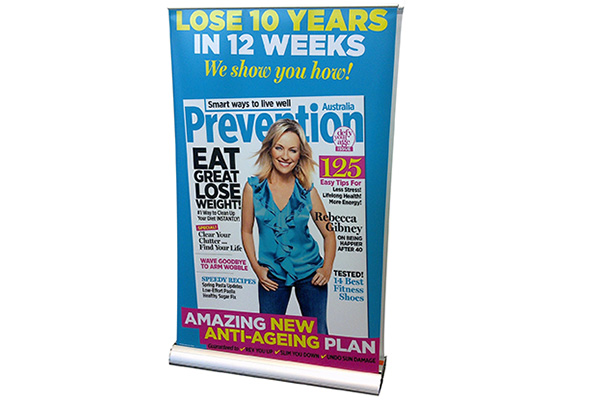 The Express 2 Double Sided Banner Stand has an impressive, sleek design.
It is very effective at grabbing attention which is why it is one of our most popular roll-up banners.
The Express 2 Double Sided Banner Stand is often seen in shopping centre promotions. As well as conferences and trade shows.
As a retractable banner, it is lightweight yet
extremely
durable and solid. Perfect for busy events and transport.
At Spyder Displays, we pride ourselves on using the highest quality materials when creating our displays
.
The Express 2 Double Sided Banner Stand comes with our high-quality, curl-free Polytek graphic print. With its sophisticated design, this graphic print is high-impact and guaranteed to last.
This banner stand is an excellent addition to any Shopping Centre Kiosk or Westfield Casual lease site
. It also stands out at promotional sites, trade shows or even in the office space.
Our 10-year no-nonsense warranty guarantees this display is durable and high-quality.
We also offer quick and easy graphic updates.
Simply
, send your display back to us and we will update the graphics within a few working days. Perfect for re-branding or new product launches.
The Express 2 Double Sided Banner Stand can
individually
grab attention and stand out in space
.
Alternatively
, it can be
perfectly
coupled with one of our other display elements. For example, a Portable Counter or our Elite Pop Up Display. Creating an
overall
powerful, enticing display area.
Click here for Banner Stand Examples
Request a Quote
Interested? Let us know your requirements and any questions and Spyder will be in contact with you shortly.
Solid construction for durable use and transportation
Excellent solutions for Shopping Centre promotions (Casual Lease Sites) or for trade shows, conferences and exhibitions
10 year no nonsense warranty on hardware components
Send it back to us to replace with updated printing, rather than throw away
Available with a Superior graphic prints or lightweight economic print option
Delivery within 2-5 working days
"Very pleased I opted for the Spyder Banner Up displays and posters over other companies I canvassed for the Fashion Exposed Trade Fair in Sydney Feb 2010. They were a superior quality to others I've seen, and the posters remained "stuck" for the duration. The velcro product is excellent. Anyway I can get some more? Regards Julie "
...
Amanecer Trading Co
"We must thank Spyder Displays for your valuable assistance from the first phone conversation through to the final outcome. Whether we were talking with your front office person on the phone, or your graphic designer, it seemed nothing was too much trouble or an effort. The product information we received, the design you created and the speed and ease with which you produced the banner for us all worked together, and when the courier delivered the package to us in record time a day earlier than expected we knew we were dealing with a company that showed how much it valued customer service. The feedback we've received about the banner has been very favourable - from our Head of School, our Faculty partners and our staff, so thanks Spyder Displays - we'll be happy to recommend you to others. Yours truly Joanne Hopper Office Manager "
...
University of Queensland
Previous
Next