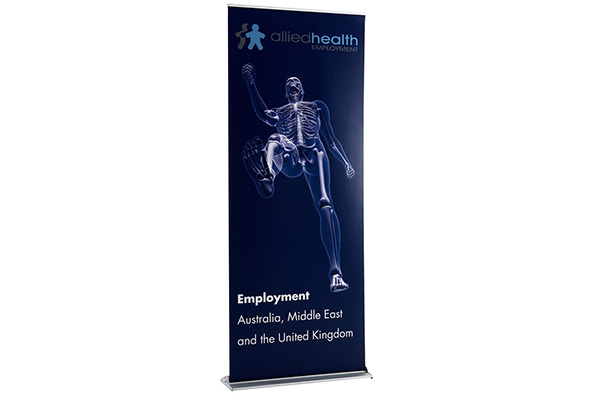 The Express 2 Roll Up Banner is our most popular Roll Up Banner for Trade Shows and Exhibitions. With it's impressive, sleek design, light-weight structure and ease of customisation. It is the perfect marketing solution for showcasing your brand.
As a retractable banner, the Express 2 Roll Up Banner is light-weight, compact, and portable
. Perfect for any event, such as trade shows, exhibitions or even the office space.
This banner can
conveniently
 fit into any environment. It is the perfect form of mobile advertising.
Allowing you to showcase your brand without having to carry around heavy display units
.
At Spyder Displays, we only use the highest quality materials when designing our displays
. 
The Express 2 Roll Up Banner comes with our
high-quality curl free
polytek
graphic print. Along with, lightweight yet solid construction for durable use and transport.
We offer a 10-year no-nonsense warranty on all hardware components.
This illustrates the confidence we have in the durability and quality of our displays
.
We can
easily
create replacement pull up banner designs within 2-5 working days if you need to update the design
. This provides you with an adaptable, simple marketing solution for any event. 
Our Roll Up Banner can be dynamic or simple. It can
confidently
stand alone or compliment one of our many other design elements. For example a Portable Counter or Pop Up Display Stand.
Click here for Banner Stand Examples
Request a Quote
Interested? Let us know your requirements and any questions and Spyder will be in contact with you shortly.
Lightweight and solid construction for durable use and transportation
Excellent height for trade shows, conferences and exhibitions
10 year no nonsense warranty on hardware components
Send it back to us to replace with updated printing, rather than throw away
Available with a superior graphic prints or lightweight print option
Delivery within 2-5 working days
"You have great staff - the next day I received my banner for the front of the stand and the following day I received the stand. Honestly I would recommend you to anyone in business. We always leave things to last minute (well I do anyway ... always too much to do and too little time to do it) but with you, it didn't matter, you still delivered. Thank you. "
...
Water for Life PTY
"I am pleased to recommend Spyder Designs for the quality of their products, their professionalism, and their customer service. The banners that Spyder have supplied us with are easy to use, durable and of a very high standard. The after sales service has been exceptional, and it has been a pleasure to do business with them. Kind regards Hal Marketing Manager"
...
Juniper Estate Margaret River
Previous
Next