At Spyder Displays, we have built our reputation around personalised customer service, innovative creativity, excellence in quality, managing time & value for money!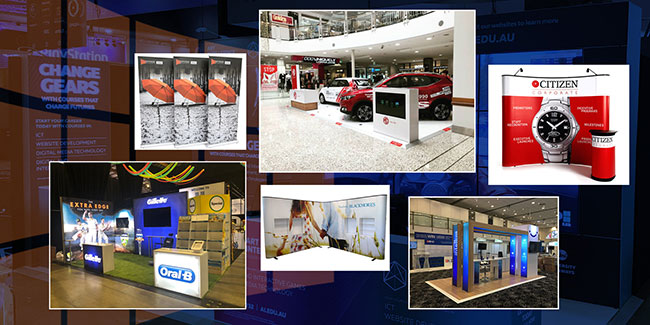 SYDNEY DISPLAY STANDS, TRADE SHOW DISPLAYS, POP UPS AND EXHIBITION DISPLAYS STANDS
If you are looking at getting your branded message out to your potential clients in the Sydney region at Spyder Displays we have all your needs covered.
Spyder Displays is Sydney's leading manufacturer and supplier of Display stands, Exhibition stands, Trade show displays, Counters, Pull-up banners, Flags and Pop-up display banner stands.
At Spyder Displays we offer innovative display solutions to maximise your products visual cut through. We have a large number of portable display solutions for your particular needs, plus we can design customised solutions to optimise any presentation. Our designs are specifically manufactured with ease of installation and dismantle as a major design feature, thus maximising efficiency and usage.
Choice from our large offering of exhibition, shop and outdoor display items including:


Display Stands


Trade Show Displays


Pop up Displays


Exhibition Displays


Banner Stand


Portable Exhibition items


Display Exhibition Stands


Exhibition Display Stands


Trade Show Stands


Exhibition Stands


Pull up banners


Flags


Outdoor portable signs


We do custom Exhibition stand design and construction
Plus any other Shopping Centre Booth, Expo, Exhibit and Stand promotional items
Time

We understand that timing is everything. We work to your timelines and closely manage our client's expectations in terms of delivery to deadline.

Quality

Whether it's our display system or our accompanying high quality digital prints - our quality is second to none!

Creativity

At Spyder Displays we offer innovative display solutions to maximise your products' visual cut through.

Support

We pride ourselves on close personal service with all our customers, be they large organisations or small business.