A3 Freestanding Brochure Stand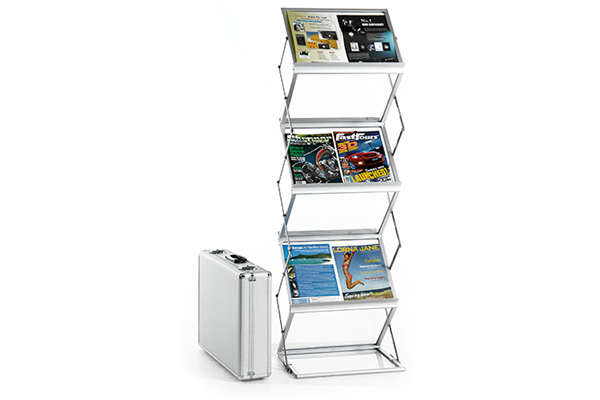 The A3 Freestanding Brochure Stand is the perfect compliment to any Spyder Display.
The A3 Freestanding Brochure Stand is light-weight, yet stable. Excellent for promoting your business at exhibitions, trade shows or in your showroom.
It is large and has provision for 12 x A4 brochures.
This Brochure Stand has a sturdy, durable aluminium structure. With stabilising feet for uneven floors to ensure stability. It also has locking sleeves to secure the stand and hard-wearing acrylic inserts.
This display accessory is available with a single or double-sided printed header panel. It also comes in a lockable case for secure travel.
The A3 Freestanding Brochure Stand can add a subtle marketing touch to any office space or waiting room
.
Request a Quote
Interested? Let us know your requirements and any questions and Spyder will be in contact with you shortly.
Sturdy aluminium construction
Stabilising feet for uneven floors
Locking sleeves to secure stand from collapsing
Hard wearing acrylic inserts
Superior magnets
Lockable case
Sorry there are no downloadable items for this product. Please contact us for more information.
"I would like to take this opportunity to congratulate your team for a magnificent job on our new display stand for our Dragon Grilles Division. The timing of this product was critical to attend an annual trade show and as delivery of the new display was the day before the show, we were all obviously very anxious to meet the deadline. On collecting the display which was assembled in your showroom, I was very impressed with its impact. The ease of assembly and disassembly was a bonus for our presentation team on the day. Overall, the new display has presented Dragon Grilles in the market as a Professional Company that delivers QUALITY RELIABLE SOLUTIONS. Thanks again to your company for a job well done. Regards, Colin Peak Group Operations Manager "
...
Queensland Manufacturing Industries Pty Ltd
"I would happily recommend Spyder Displays to anyone considering purchasing a trade show stand. Our Spyder representative Lee de Rooy was one of the best Account Managers I have dealt with. Lee's product knowledge was excellent, everything was clearly explained and he ensured the finished product met our needs and expectations. The quality of artwork and design provided by the Spyder creative team was great and the feedback we have received at our first few tradeshows has been fantastic. The information and sales support provided by the entire Spyder team through the entire process was great and it was a pleasure dealing with such a professional and organized company. Best Regards Paul Halloran Trade Marketing Manager Swedish Match Australia & New Zealand"
...
Redheads
Previous
Next