A4 Concertina Freestanding Brochure Stand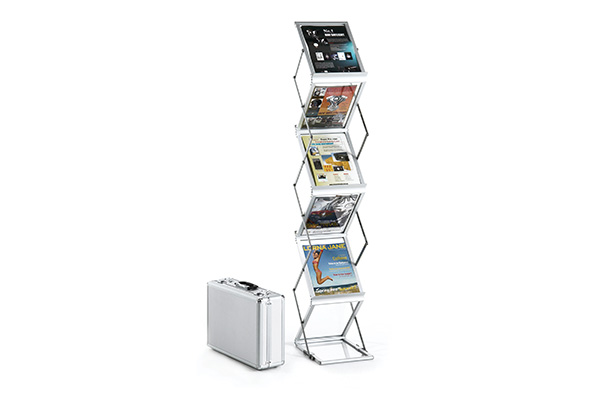 The A4 Freestanding Brochure Stand is the perfect compliment to any Spyder Display.
The A4 Freestanding Brochure Stand is lightweight, yet stable. Excellent for promoting your business at exhibitions, tradeshows, or in your showroom.
This Brochure Stand has a sturdy, durable aluminium structure. With stabilising feet for uneven floors to ensure stability. It also has locking sleeves to secure the stand and hard-wearing acrylic inserts.
This display accessory is available with a single or double-sided printed header panel. It also comes in a lockable case for secure travel.
The A4 Freestanding Brochure Stand can add a subtle marketing touch to any office space or waiting room
.
Alternatively
, it can be the perfect complimentary accessory to one of our popular display options
. For example, one of our Portable Counters or Pop Up Display Stands.
Request a Quote
Interested? Let us know your requirements and any questions and Spyder will be in contact with you shortly.
Sturdy aluminium construction
Stabilising feet for uneven floors
Locking sleeves to secure stand from collapsing
Hard wearing acrylic inserts
Lockable case
Sorry there are no downloadable items for this product. Please contact us for more information.
"Great product, we had a display from a different company at a conference last week and yours next to it looked 100% better. Very happy with service and product. David Lindsay "
...
Spanline Home Additions Brisbane Southside
"The finished product was outstanding. The Spyder Displays team were very professional and courteous. A special thank you mention to Keven Riordan for all his efforts in helping us meet our deadline in preparation for the trade show we attended. Highly recommended to all!! Steven Le"
...
Green Alliance
Previous
Next