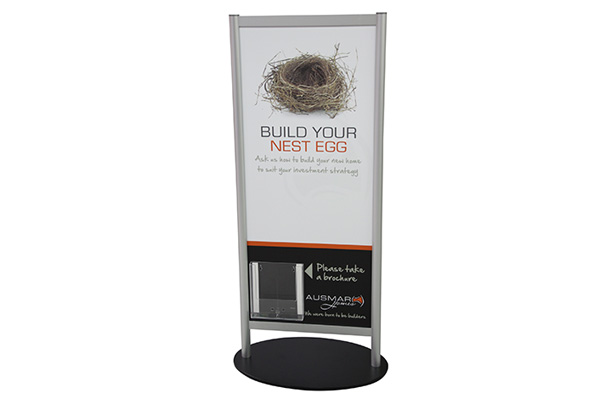 The Freeform Brochure Stand is simple yet eye-catching.

Designed for durability and professionalism, this stand is the perfect addition to any foyer or reception

.
The Freeform Brochure is designed for durability and has a sturdy aluminium construction. It also has a solid timber laminate oval base. 
This display comes with high-quality graphic printing with a sophisticated laminate finish. Ensuring that your graphics stand-out.
We offer
multiple
manufacturing options to personalise your stand. We can add a variety of brochure holder styles and poster sizes (up to A1 size) to your Brochure Stand.
This Stand is available in single or double-sided options. It is also available in a variety of print and powder-coat colours.
The Freeform Brochure Stand is the perfect marketing touch to any foyer or reception.
Alternatively
, it can also
perfectly
complement one of our other display options. For example, the Pop Up Shop or Elite Pop Up Display.
Click here for Custom Brochure Holder Examples
Request a Quote
Interested? Let us know your requirements and any questions and Spyder will be in contact with you shortly.
Sturdy aluminium construction
Solid timber laminate oval base
High quality printing with laminate finish
Sorry there are no downloadable items for this product. Please contact us for more information.
"Looks very professional but also very practical. Great size and we had a lot of people coming up to specifically read our information and take our newsletter/business cards. Easy to assemble and disassemble. Great service and prompt delivery. Thank you! Tim Westblade "
...
Pastora Poll Merinos
"Our company had a banner produced by Spyder last year, and the result was fantastic, so we didn't hesitate when we needed another one recently. The service, technical and artistic support were excellent, and delivery was 5 days from confirmation of our order. Very happy with all aspects of production, and we will continue to use Spyder in the future. Thanks again"
...
Microchips Australia
Previous
Next