Panelkog Lite Fabric Display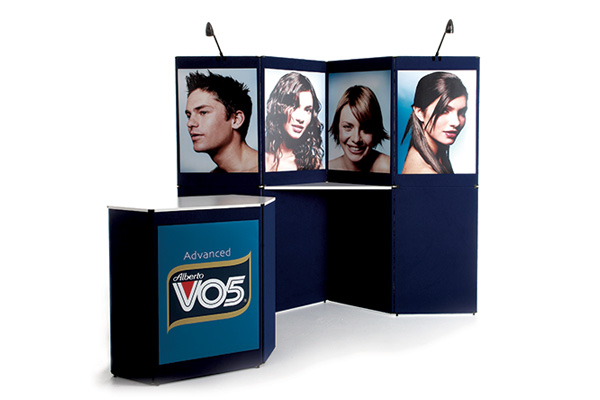 The Panelkog Lite Fabric Display is Australia's Leading
Fabric Panel Display.
With its modular design, compact nature, and
high-graphic impact it is the perfect, cost-effective
display for any event

.
The Panelkog Lite Fabric Display is often seen
 in schools and governmental
organisations across Australia
.
It is perfect for showcasing your graphic posters.
Simply
, velcro your posters onto the fabric panels. You can also update your graphics 
for different events, product launches, or re-branding.
This display is easy to set-up and transport. Only requiring one person with no tools needed.
At Spyder Displays, we offer unique display structures guaranteed to impress, adapt, and last.
The Panelkog Lite Fabric Display has an adaptable hinge system that can adapt to any event environment
. Providing you with the perfect display for any tradeshow, market or shopping centre site. 
These Fabric Panels are made
from high-quality 100% recycled plastic bottles
. Manufactured completely in Australia. Providing you with an 
environmentally-friendly
 display guaranteed to stand out.
This display comes with a 10-year no-nonsense warranty on all hardware components.
The Panelkog Lite Fabric Display has a number of sizing options. We can make the display
 to suit any business requirements with our made-to-size option.
Alternatively
, we have a range of standard sizes available.
This display is available with a range of accessories. For example, shelving, lights and stabilising feet. It also comes with a heavy-duty, quality padded bag on wheels to ensure ease of transport.

The Panelkog Lite Display can
confidently
stand alone.
Alternatively
, our exhibition flooring or iPad stands can compliment this display. Creating an
overall
engaging and eye-catching exhibition.
Click here for Modular Panel Examples
Click here for Panel Display Boards Accessories
Customs sizes available on request
Australian Made and Manufactured
Mobile and setup within minutes without tools
10 year no nonsense warranty on hardware components
100% recycled fabric material (great for the environment)
Available with a heavy duty padded carry bag with wheels
Made to size or standard sizes available
Range of accessories including shelving, lights, stabilising feet and carry bags
"To Lee and the team at Spyder Displays, Wotif.com sourced a display for our company to promote our accommodation website at business trade shows and to participate at corporate promotions. A high level of service was present from our first contact with Lee right through to delivery of the unit. Even now we continue to get friendly after sales contact. Our Ultra Lite is easy to transport and quick to assemble.  Because it is made up of a number of panels, we can update it at any time to adapt as our corporate image develops. We will not hesitate to approach Spyder Displays again when our display needs change. Christopher Bright Business Development Manager Wotif.com"
...
wotif.com
"The staff at Spyder Displays were exceptionally efficient and helpful. The stand was delivered within a very short time frame and the quality is excellent. Shay Voyle "
...
Bartercard
Previous
Next