Floor Standing iPad Stand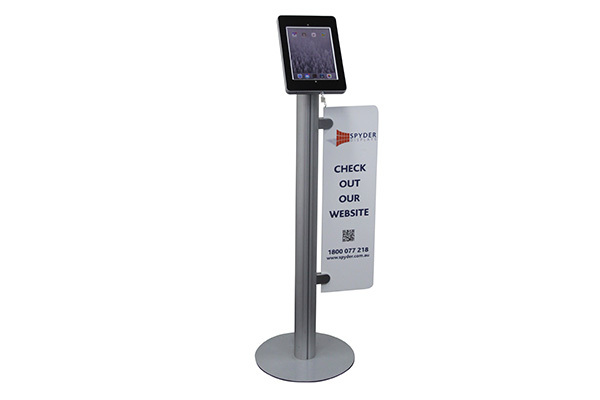 The Spyder Display Floor Standing iPad Stand is perfect for adding interactivity and professionalism to any space

.
It is ideal for exhibitions, conferences, shopping centres or your office environment.
Our Floor Standing iPad Stand comes with a secure lock for the safety of your iPad. This stand consists of a sturdy aluminium construction.
Our iPad stand also has the ability to be landscape or portrait. Providing you with a dynamic, interactive marketing accessory.
With the iPad Stand you can increase lead generation through in-store email sign-ups.
Alternatively
, you can showcase your brand's video media. For example, product demonstrations or cinematic advertisements. The options are endless.
Our Floor Standing iPad Stand is suitable for all iPads as well as a selection of other tablets.
A graphic face plate or graphic sign can also
be added
to the iPad stand. This can increase brand awareness as well as the design of the stand.
The Floor Standing iPad stand can be the perfect accessory within your store or office space to add interactivity and brand awareness
.
Alternatively
, it can also be an excellent complimentary accessory to one of our other displays
. For example, the Pop Up Shop or Pop Up Exhibition Stand.
Request a Quote
Interested? Let us know your requirements and any questions and Spyder will be in contact with you shortly.
Lockable holder for security of your iPad
Sturdy aluminium construction of stand and base plate
Graphic prints can be added for branding including face of the iPad holder
Sorry there are no downloadable items for this product. Please contact us for more information.
"To the team at Spyder Displays, With reference to the absolutely fantastic pop up display stand you supplied for our exhibition. Thank you so much from myself and the entire team for a fast turnaround, your patience and an unquestionably incomparable display stand that set us completely apart from not only our competitors but exhibitors in general. The elegant presentation of the display was commended by a substantial number of exhibitors; your information has been passed on to those who asked for your further benefit. Once again, thank you very much and we look forward to presenting you with further display opportunities in the very near future. Regards Jason Gullotti "
...
OzShut
"Easy to set up - Light weight and attractive. The Spyder Display added a professional touch to my presentation. Leanne Beches"
...
Disability Services Commission WA
Previous
Next