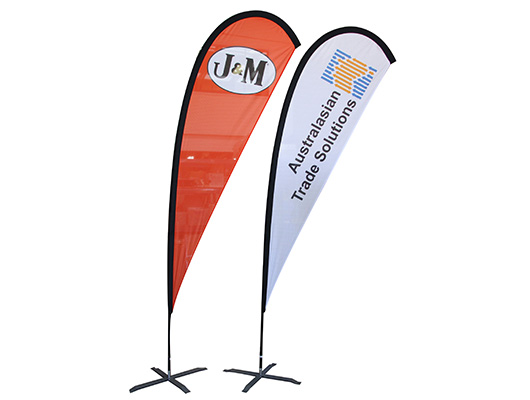 Our impressive Outdoor Premium Teardrop Flag is the perfect display flag for outside your business establishment or outdoor event. 
Our Teardrop Flag uses 
high-quality aluminium poles and fittings
within its intricate structure. This flag has strong elastic edging and comes with a padded carry bag. Making it 
easy to transport and set-up.
These professional display flags come with a
5-year warranty
on all hardware. Providing you with confidence that they are of a superior quality and structure.
Our
high-quality dye sublimation printing
also gives this Premium flag an incredible, unbeatable finish
.
We guarantee that our displays are
durable and able to handle the rugged Australian conditions
. 
The Premium Teardrop Flag is available in a single (reverse print on opposite side) or double-sided design
. Providing you with greater graphic impact and customisation.
This flag comes with
numerous
accessories for stability. This includes a ground spike, cross foot, wall bracket and heavy duty plate.
It can also stand indoors to enhance your trade show or exhibition.
The teardrop flag can
perfectly
compliment other display elements such as one of our
Pop Up Display Stands
or
Portable Counters
.
Request a Quote
Interested? Let us know your requirements and any questions and Spyder will be in contact with you shortly.
Durable Aluminium construction and padded bag makes this flag the ideal travel companion
High end print quality to enhance your brand
5 year no nonsense warranty on hardware components
Delivery within 5-7 working days
Value for money
"I would also like to say a very big thank you to Lee and Keven from Spyder Displays who went above and beyond to make sure the stands were made and delivered according to our timeframe. They look absolutely fabulous. Your assistance has been wonderful. Caroline Jones"
...
B & R Enclosures
""Spyder Displays exceeded all of my expectations. They were incredibly easy to work with and they made some fantastic suggestions that I would never have considered on my own. The display they put together for me arrived earlier than expected and it gave my presentation the sparkle it needed to stand out from the crowd. I highly recommend engaging their services every time you need to make an unforgettable impression." Scott Rawstorne, Global Paddler"
...
Global Paddler
Previous
Next