Ezy Frame Fabric Wall Curved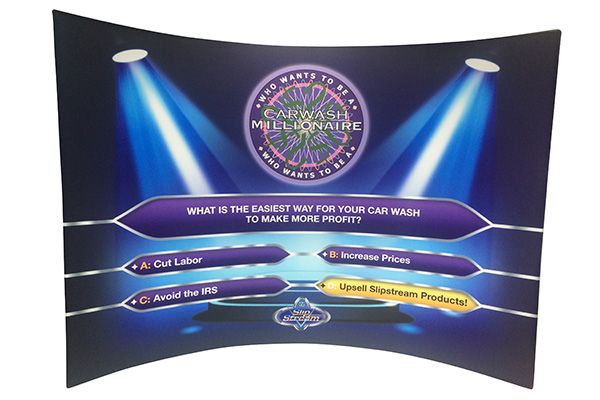 The Ezy Frame Fabric Wall is an easy, adaptable marketing solution to intrigue your audience with its curved structure and eye-catching graphic impact. The design of this display focuses on engaging your audience with your business by showcasing your brand through captivating graphic design and interactive display structure.
Key Features:
The Ezy Frame Fabric Wall is easy to assemble and transport. It only takes minutes to set up and only one person is needed to assemble it. 
This display is Australian printed and manufactured. It is perfectly made to size and ready in just a few working days.
This popular fabric stretch frame wall solution comes in a stylish square corner finish to suit any exhibition, media conference or trade show conference.
The Ezy Frame Fabric Wall is lightweight with an aluminium tube framework and high-quality, crease-free polyester fabric print.
Comes in a heavy duty padded bag for travel convenience.
Request a Quote
Interested? Let us know your requirements and any questions and Spyder will be in contact with you shortly.
Custom sizes available on request
Setup within minutes
High quality dye sublimation printing in Australia
Single or double sided
From 9kg
Heavy duty padded carry bag
Value for money
"To the team at Spyder Displays, With reference to the absolutely fantastic pop up display stand you supplied for our exhibition. Thank you so much from myself and the entire team for a fast turnaround, your patience and an unquestionably incomparable display stand that set us completely apart from not only our competitors but exhibitors in general. The elegant presentation of the display was commended by a substantial number of exhibitors; your information has been passed on to those who asked for your further benefit. Once again, thank you very much and we look forward to presenting you with further display opportunities in the very near future. Regards Jason Gullotti "
...
OzShut
"The staff at Spyder Displays were exceptionally efficient and helpful. The stand was delivered within a very short time frame and the quality is excellent. Shay Voyle "
...
Bartercard
Previous
Next